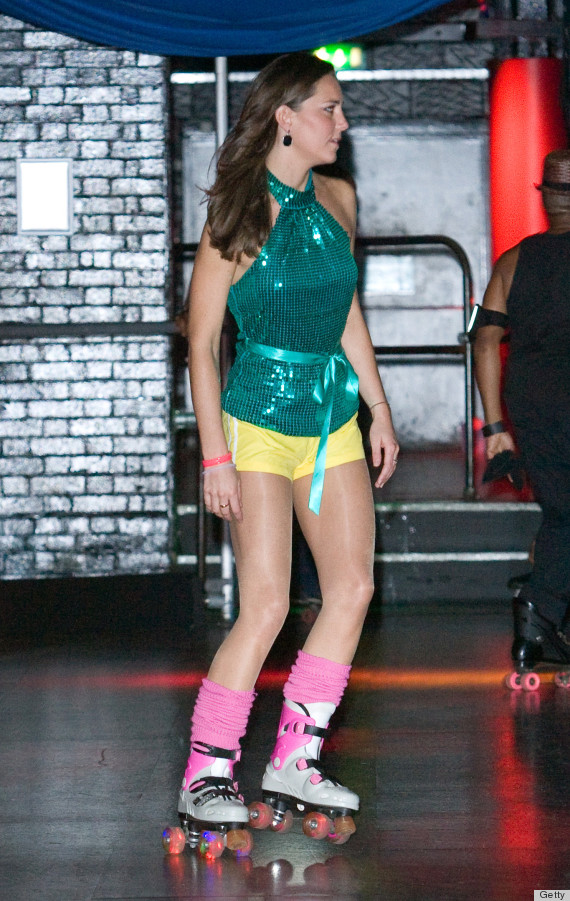 EntertainmentWise 15 hours ago Print Kate Middleton and Prince William clearly have a great sense of humour if rumours they have nicknamed son Prince George PG after the famous brand of teabags are true. According to The Mirror newspaper, the royal couple gave baby George the moniker "Tips" after pals jokingly kept referring to the six-week-old by the name. Poor George! We hope for Kate and William's sake he grows up to share their humour. Kate makes her first public appearance with William earlier this week (WENN) Kate made her first public appearance with William at Anglesey Ultra marathon this week, showing off her slimline post-baby figure. But while the royal has clearly been sensible about what she eats, it seems Prince George on the other hand has developed a healthy appetite, already gaining 5lbs. A source revealed to the paper that the Duchess, who is believed to be breast-feeding the tot, is sticking to a feeding pattern of 12 times every 24 hours. Meanwhile, the insider added that just like any other baby, George has a good pair of lungs on him. The source revealed: "He is being fed on demand and he has a very healthy pair of lungs. Very noisy." The trio are said to be travelling to Balmoral in the coming weeks, giving George his first holiday when he visits the Queen's Scottish estate. It's reported that they will be joined by grandparents Charles and Camilla and it will provide the perfect opportunity for a family photo. The source added: "They are trying to organise it so that Charles, Camilla and the others are there for a large family photograph." Kate Middleton, Duchess Of Cambridge: The Ultimate Guide To Her Stunning Maternity Wardrobe
William and Kate met at St Andrews Getty Images The Duchess of Cambridge plotted to study alongside Prince William after learning which university he had chosen, it was claimed today. Kate Middleton, 31, rejected her first choice of university and took a gap year so she would be an undergraduate at the same time as her future husband, according to a new book. Previously it had been claimed Kate was told to apply for a place at St Andrews University by her pushy mother Carole Middleton. But Kate: The Future Queen – by newspaper journalist Katie Nichol – claims Kate snubbed an offer to study at Edinburgh University and plumped for St Andrews after the Princes choice was made public. She gambled on getting a place at St Andrews by taking a gap year at the same time as the Prince in the hope they would arrive at the same time, the book claims. Jasper Selwyn, a careers adviser at Kates former school, Marlborough College, and Joan Gall her house tutor, confirmed to Ms Nichol that her first choice of university had been Edinburgh. They said that despite achieving the required grades for Edinburgh she turned it down and decided to take a gap year, just as William was doing, and reapply for St Andrews. William and Kates romance flourished shortly after they both arrived at St Andrews in 2001 to study art history. Romance: Kate and William on the day of their graduation The Middleton Family The book also reveals how Kates jittery mother later confronted William over his intentions towards her daughter. It said she was worried about the absence of a ring on Kates finger and cornered the Prince when he visited her family just before Christmas 2009. The couple had briefly split in 2007 before getting back together. A family friend quoted in the book told how William reassured Carole that there would there be an engagement and marriage.
Proof? These epic photos of the now-Duchess of Cambridge back in September of that year, skating around an indoor rink in hot pink knee-socks, yellow minishorts and a teal sequined halter top. With a sash. Bonus: Pippa was there, too, wearing black sequins, pink leg warmers and hoop earrings. Odds of us seeing the new mum at a day-glo roller disco these days are, sadly, slim to none. Thank goodness we've got the photos to revist again… and again… and again… PHOTOS: Before she was a princess… Loading Slideshow With Holly Branson at Whisky Mist in London Prince William, October 2008 Leaving the Met Bar in London Kate and Pippa Middleton, September 2008 At The Day-Glo Midnight Roller Disco Fundraiser in London Kate Middleton, January 2008 Attending the after party following the opening night of 'Afrika Afrika" Prince Harry, August 2011 Here is the prince on vacation in Croatia. He threw himself in a pool at Veneranda nightclub and then danced the night away with soaking wet clothes! Sarah Ferguson, July 2008 At the Boujis nightclub in London Kate Middleton, May 2008 On holiday in West India Pippa Middleton, December 2012 Leaving the Christmas Charity Sales Launch at St.
Report: Kate Middleton's Mom Pressed Prince William About Future Marriage Plans
Will Kate be bridesmaid or matron-of-honor at the supposed nuptials? It would not be a surprise: After all, Pippa put herself into history books, and in the lenses of armies of paparazzi, when she stood out as a shapely bridesmaid at her sister's royal wedding in 2011. The source for all of this: unnamed "friends," of course. No comment from Pippa or Jackson or their relatives. That is usually the case with stories about royal wedding bells. Only last week, Brit media were reporting that Prince Harry, 28, is madly in love and ready to propose to his girlfriend, dancer/society belle Cressida Bonas, 24. So far, it hasn't happened. Ditto for the recent reports that Princess Beatrice would announce her engagement to her longtime boyfriend, American-born Virgin Galactic executive Dave Clark, 28, at her 25th birthday bash in early August. That hasn't happened yet, either. There were even reports that Beatrice's parents, the long-divorced Prince Andrew Duke of York and Sarah Ferguson Duchess of York, would announce that they will remarry, given they've been living in the same house for years, anyway, and are still very close. Also not happened. (And if it does, it probably won't happen until after Prince Philip, 92, passes from the scene, because he is not a fan of Fergie's.) So judge the Pippa reports with appropriate skepticism. We do know this: The couple have been dating for months, having met last year in a London nightclub.
ADVERTISEMENT A spring wedding is planned, the friends told The Mirror. Middleton, the 29-year-old sister of Duchess of Cambridge Kate Middleton, and Jackson, 35, have been dating for more than six months and apparently got engaged prior to the Wimbledon tennis tournament, the British newspaper said. A formal announcement is expected after Pippa's 30th birthday Friday. "Pippa loved seeing Kate go down the aisle and now it is her turn for a fairytale wedding," one friend told the Sunday People. "She couldn't be more sure that Nico is the right man for her. They are such a good fit for each other and their families get on really well. Everyone is so happy for Pippa." The Mirror said a source said "it remains to be seen" whether the 31-year-old Kate will be a bridesmaid for Pippa, who served that role at the duchess' wedding. "Everyone knows how close the sisters are but at this stage the final arrangements are a long way off," the unnamed source said. 'Pippa's wedding will be a huge occasion but if Kate is bridesmaid it will be even more high-profile." DISCUSS AND COMMENT ON THIS STORY Reality TV World now offers Facebook Comments on our stories. To post a comment, log into Facebook and then 'Add' your comment. To report spam or abuse, click the 'X' in the upper right corner of the comment box. Get more Reality TV World! Follow us on Twitter , like us on Facebook or add our RSS feed .
Kate Middleton's sister Pippa engaged to be married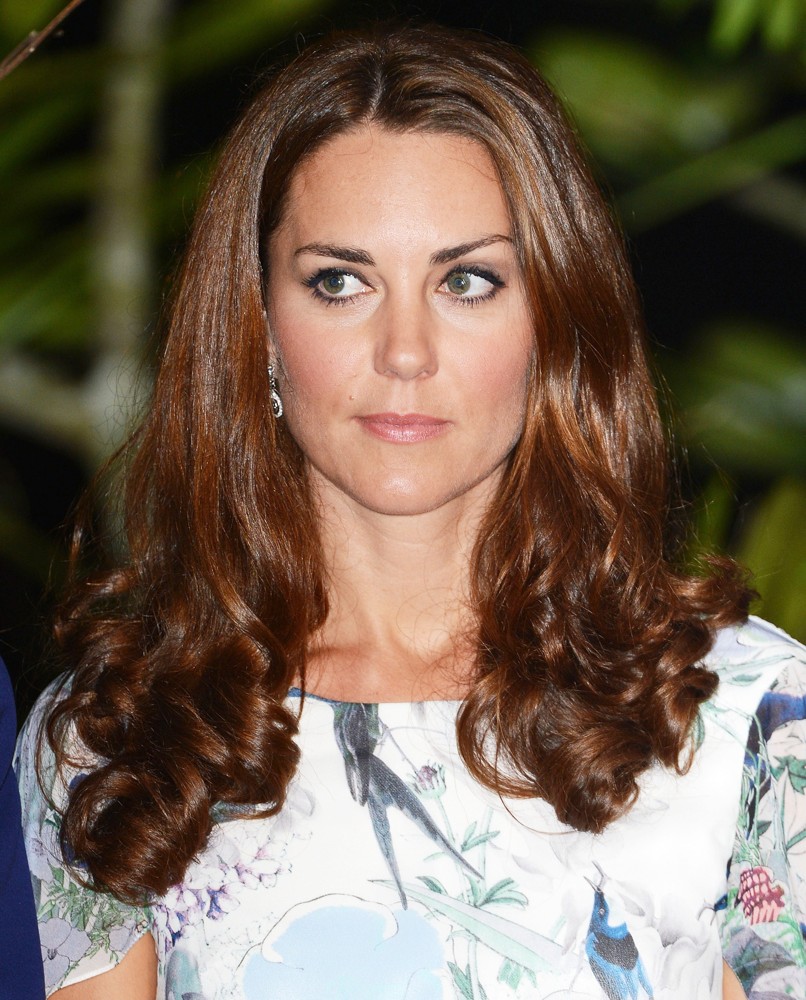 George Pimentel/WireImage Carole Middleton has got her daughter's back. During the time Prince William seemed to be procrastinating about putting a ring on Kate Middleton 's finger, her mom was reportedly pressing the royal about his future plans with her daughter. NEWS: A glimpse inside Kate Middleton's life as a royal mom In the new book, Kate: The Future Queen by Katie Nicholl, Carole was said to be "jittery" that the couple was not engaged yet, and took Prince William aside to question him about it, according to the Daily Mail . The two purportedly met up when the prince visited the Middleton family right before Christmas in 2009, and Carole "expressed her fears" to him. Ever the gentleman though, the Duke of Cambridge helped ease Carole's anxiety by assuring her that an engagement and marriage were in the near future, that he and Kate hoped to have children, and that Carole would be "fully involved" in the upbringing of her future grandchildren. The following November, Prince William popped the question to Kate. NEWS: Where was Prince George during Prince William and Kate Middleton's public appearance? James Whatling / Splash News And it looks like he also stuck to his word when it came to the couple's first child together. Following Prince George 's birth, Carole has remained closely by the couple's side, helping them out tremendously with their baby boy as somewhat of a live-in grandmother . The Duchess of Cambridge even mentioned that "grandma" was taking care of their little one while she made her first public appearance since his birth at the Ring O'Fire ultra-marathon in Anglesey Friday. The book also makes claims about how Kate decided to attend St. Andrews at the same time Prince William did, turning down her first choice school, Edinburgh, to supposedly follow her future hubby.
Pippa Middleton might be secretly engaged?
The royals also gave the world a glimpse of their provincial life by sharing informal family portraits of themselves, George and their dog last week. The duchess' next scheduled official appearance is Sept. 12, when she's to join William at the Tusk Conservation Awards in London, the Daily Mail reported . Kate, 31, already looked pre-baby perfect at the race. She paired a green Ralph Lauren blazer with a patterned silk blouse by Zara and snugly fit her already slim figure into a pair of dark J. Brand skinny jeans, according to People magazine and the Daily Mail. FULL COVERAGE: Royal baby born The first-time mom stayed fit by walking her dog, Lupo, and taking regular "ante-natal" yoga classes while she was pregnant, the Mail reported. She said that their 5-week-old son was at home napping with his grandmother, Carole Middleton, who came to babysit. "He's doing very well," Kate told Sarah Bingham, 38. "He's with granny at the moment. He's sleeping well but I know these things change at a minute's notice." The new mom described her son as "sweet" and told another event-goer that she was keen to get back into shape — even though what little baby weight she gained appeared to have already melted off.