Credit: Jason LaVeris/FilmMagic She's not coming back to The Voice for season four, but Christina Aguilera made a jaw-dropping comeback anyway at an event for the NBC reality show on Wednesday, March 20. Making a surprise appearance on the red carpet for the season-four premiere screening at the TCL Chinese Theater in L.A., the "Your Body" singer, 32, turned heads in a little black-and-white dress that showed off a noticeably slimmer figure — not to mention Aguilera's toned, sexy legs, accentuated by high Louboutin heels. PHOTOS: Xtina's weight ups and downs Aguilera, whose over-the-top style, curvy figure and dramatic makeup provided frequent comment during her seasons as a mentor on the show, also tried out a more natural, fresh-faced beauty look. Christina Aguilera attends NBC's "The Voice" season 4 premiere at TCL Chinese Theatre on March 20, 2013 in Hollywood, California. Credit: Jason LaVeris/FilmMagic PHOTOS: Voice judges then and now Speaking briefly with reporters outside the theater, Aguilera was coy on when, and if, she'll return to the show. "I can't say anything right now. I can only do what feels right for me in the moment and right now whats important for me, and this is why I love the show, and why Im coming back in support," explained the Grammy winner. With Aguilera and fellow mentor Cee-Lo also out for season four, they've been replaced by newcomers Usher and Shakira to join returning veterans Blake Shelton and Adam Levine. Christina Aguilera at The 40th Anniversary American Music Awards Nominations Announcement on October 9, 2012 in Los Angeles, California. Credit: Jim Smeal/BEImages PHOTOS: Xtina's hair evolution Dating former production assistant, Matt Rutler for over two years, the divorced mom to son Max, 4, offered her advice for fellow pop star mom Shakira as she settles into her Voice gig. "Everybody figures it out at their own pace, you know, it is a juggling act, it's a balancing act to take on your responsibility in front of the camera, and then be Mommy behind," said Aguilera. ( Shakira and beau Girard Pique share infant son Milan.) "Shakira seems like a tough girl that can hold her own, especially with these boys!"
The Ex Factor! Christina Aguilera shows off slim figure as she enjoys day out with ex-husband Jordan Bratman and son Max
almost. The 32-year-old singer took a stroll on Venice Beach in Los Angeles on Sunday with her son Max, 5, and ex-husband Jordan Bratman. Christina showed her new slimline physique in a pair of skinny jeans and a white vest top. Family bonding: Christina Aguilera was spotted Monday on Venice Beach with ex-husband Jordan Bratman for a family day with their son Max She finished off her casual ensemble with a baseball cap, a silver crucifix and black slip flops. E! reported earlier this month that the Your Body singer has been trying to new exercises to lose weight. A source revealed: '[She's] making herself a priority, trying new exercises and trying things she loves and enjoys rather than stuff to just 'lose weight.' This is really from the inside out.' Momma's boy: Christina affectionately rubs her son's head as she and Jordan take him to a birthday party Cali casual: Christina looked ready for a day on the Venice boardwalk, wearing a breezy tank top and skintight jeans as she walked with her son Christina has admitted that her relationship with her ex Jordan was at one stage 'unhealthy'. But the pair seemed to be relaxed and at ease with each other when they walked side by side with their son on the beach. Talking about the breakdown of her marriage to Jordan, Christina revealed back in 2010 that 'knew' she had to end it. Beautiful day: Jordan and son Max went barefoot for their walk along the beach on a sunny California day Workin' out: Christina has been 'trying things she loves' to lose weight instead of slogging through boring workouts and ineffective diets 'Things were so unhealthy and unhappy for both Jordan and me,' she said. 'I really didnt want to hurt Jordan, and I felt torn about splitting our family up,' Adding: 'When youre unhappy in your marriage, your children are the ones who suffer.Thats the last thing I wanted for my son.' Christina is now happily dating boyfriend Matthew Rutler, and the pair were seen last week taking Max to a birthday party. All in the family: Christina seems to have reconciled with her ex-husband after their relationship became 'unhappy and unhealthy' around the time of their breakup 'Matthew is a special person,' she told People magazine of the set assistant in 2010. 'We had a really strong friendship on the movie. 'He's the kind of person you could spend hours on the phone talking to and all of a sudden it's daylight.
Christina Aguilera shows off slimmer figure during beach outing with ex-husband and son
Be sure to check out other popular song lyrics from this artist that are listed in the sidebar and " Like Us " on Facebook if you enjoyed reading Christina Aguilera's lyrics on our site. Don't miss the latest news and gossip about the artist: " Original Coaches All Returning to Season 5 of The Voice ". Because Ti Amo by Christina Aguilera Maybe it's because ti amo I wrote this whole thing Just because ti amo It's just because ti amo!!! I think I won't make it through You're always on my mind Please tell me you love me too Or else I'm gonna die Here is what you mean to me! You are an angel God sent to me And I just want you here with me Holding you all the time! Lyrics provided by http://www.kovideo.net/ Everything seems nice to me I don't know why But I think it's cause ti amo I can't live without you And I don't want to try The reason's obvious It is because ti amo! You mean the whole world to me You are my everything! You make me fly without wings It's just the way I feel! What else could I ever ask? You are the dream of a lifetime And I want you beside me Till the world stops to turn! The way I feel inside I don't know why
Christina Aguilera Promotes 'The Voice' Season 5, Displays Svelte Figure
"I told (my label) during this 'Lotus' recording, 'You are working with a fat girl. Know it now and get over it,'" the "Your Body" singer reportedly told the magazine. "They need a reminder sometimes that I don't belong to them. It's my body. "My body can't put anyone in jeopardy of not making money anymore – my body is just not on the table that way anymore." Us Weekly initially reported the Billboard magazine interview quotes, but a rep for the singer has since denied their existence. "She never said them," Aguilera's rep told Entertainment Weekly of the statements. The quotes, in which the singer recounts being told to lose weight or risk her career, do not appear in either the online story or the print publication. Joe Kohen/WireImage Though she is often seen as a blond-haired, blue-eyed white singer, Christina Aguilera is actually Ecuadorian. Another quote that was widely published but does not actually appear in the Billboard story addresses how her music label supposedly told her to shed the weight. "During the promotion of my album 'Stripped (in 2002), I got tired of being a skinny, white girl," she is quoted as saying. "I am Ecuadorian but people felt so safe passing me off as a skinny, blue-eyed white girl. "The next time my label saw me, I was heavier, darker and full of piercings! Let me tell you, that wasn't an easy pill for them to swallow." Aguilera, 31, supposedly admitted she'd gained about 15 pounds during the "Stripped" tour, and her label was not happy. "They called this serious emergency meeting about how there was a lot of backlash about my weight," she recalled. "Basically, they told me I would affect a lot of people if I gained weight – the production, musical directors." Suzanne Plunkett/AP Christina Aguilera lost a drastic amount of weight after her label insisted she was jeopardizing her career. What is true, however, is that Aguilera has struggled with public scrutiny over her figure for years. And indeed, as recently as last fall, the talented singer was making more headlines for her weight gain than her musical prowess. Unflattering photos of Aguilera at a Michael Jackson tribute concert prompted Kelly Osbourne to make a few rather disparaging remarks about her figure. "Maybe she is just becoming the fat b—h she was born to be," Osbourne said of Aguilera during a segment on E!'s Fashion Police.
Britney Spears Continues Rivalry With Christina Aguilera, This Time To Lose Weight
Celebrity Photos: August 2013 Jennifer Hudson waved to fans as she headed out of her hotel in New York City on Aug. 7. Celebrity Photos: August 2013 Leonardo DiCaprio tried his hand at flyboarding while on vacation in Ibiza, Spain with friends on Aug. 7. Celebrity Photos: August 2013 Rosie Huntington-Whiteley left the gym after a workout on Aug. 7 in Studio City, Calif. Celebrity Photos: August 2013 Lauren Conrad opted for the "Where's Waldo?" look as she arrived on a flight at LAX Airport on August 6 in Los Angeles, Calif. Celebrity Photos: August 2013 Zooey Deschanel was seen in a tattered crop-top and sari fas she filmed some funny scenes for "New Girl" with co-star Jake Johnson at the beach in Los Angeles, Calif., on Aug. 6. Celebrity Photos: August 2013 Bethenny Frankel stopped for lunch at Farmers, Fishers & Bakers Restaurant while out promoting her new talk show on Aug. 6 in Washington, D.C. Celebrity Photos: August 2013 Mark Wahlberg was seen leaving the BBC Radio 1 in London on Aug. 6. Celebrity Photos: August 2013 Gerard Butler departed Heathrow Airport in London, England en route to Los Angeles, Calif., on Aug. 6.
Christina Aguilera – Because Ti Amo Lyrics
Reports say the singers, who have known each other since they were child stars on the Mickey Mouse Club, are still keeping an eye on the other. That rivalry has reportedly re-emerged in the past few months, as Christina Aguilera has set on a weight loss campaign thats gotten the attention of Britney Spears. [Britney] gets a huge thrill out of eclipsing Christina, a source told OK! magazine. Aguilera showed off her weight loss at a presentation of The Voice last month, but Britney has also been working to tone her figure. Thats apparently irked Aguilera, a source said. Christina has a chip on her should about Britney, the source continued. [Christina] was looking forward to rubbing her weight-loss in everyones faces and Britney is at the top of her list. But its not worked out like shes planned because Britney is back in top shape herself! It just happened to work out that Britney Spears and Christina Aguilera debuted their new fit looks in the same week, forcing the two to share headlines once again. Tony Martinez, Britneys personal trainer, said the singer has started a regimen of cross fit training to stay in shape. [It's] a very tough workout involving a punishing series of weight-training exercises mixed with spurts of high-interval cardio, Martinez explained. Britneys hard work was on display on the cover of Shape magazine . It seems a bit incredible that Britney Spears was able to slim down as much as she has, especially given her lifestyle. Conservatorship documents for 2012 showed that the pop star spent a good deal of money at fast food restaurants, including McDonalds, Dominos, Subway, and In-N-Out.
Christina Aguilera on her curvy, controversial figure: 'I got tired of being a skinny, white girl'
By Zayda Rivera / NEW YORK DAILY NEWS Wednesday, August 14, 2013, 11:45 AM Comment GRPR/Raef-Ramirez/AKM-GSI Christina Aguilera, whos sporting a slimmer figure, reunited with her ex-husband Jordan Bratman for a family day with their son Max. Christina Aguilera 's slimmer figure is turning heads even when she's wearing jeans and a tank top. The singer was spotted on a casual family outing in Venice Beach, Calif., Sunday, taking a stroll with her ex-husband Jordan Bratman and their 5-year-old son Max, reports Us Weekly . Wearing skinny ripped jeans, a white tank top, flip-flops and a Pittsburgh Pirates baseball cap, Aguilera, 32, was the showstopper of the trio. PHOTOS: CHRISTINA AGUILERA'S BODY EVOLUTION As easy as Sunday morning, Max's parents walked comfortably together without any obvious tension despite their failed marriage. The two were married for six years and finalized their divorce in 2011. The "Feel This Moment" singer has since moved on and is living with her current boyfriend of three years, Matthew Rutler. With her new health overhaul, Aguilera seems to be making positive changes in all aspects of her life. PHOTOS: STARS' WEIGHT BATTLES As she prepares to make her return to the judge's chair on "The Voice" next season, the show's host, Carson Daly said, "She's in crazy-good shape!" But according to a source, living healthier has been Aguilera's mission. By already dropping a reported 20 pounds, the singer is on her way to accomplishing her goals by "making better choices" and adopting "a new lifestyle." So what's her physical fitness routine of choice? Yoga, strength training and hiking.
Christina Aguilera Wears Bra, Shows Slim Figure On Music Video Set (PHOTO)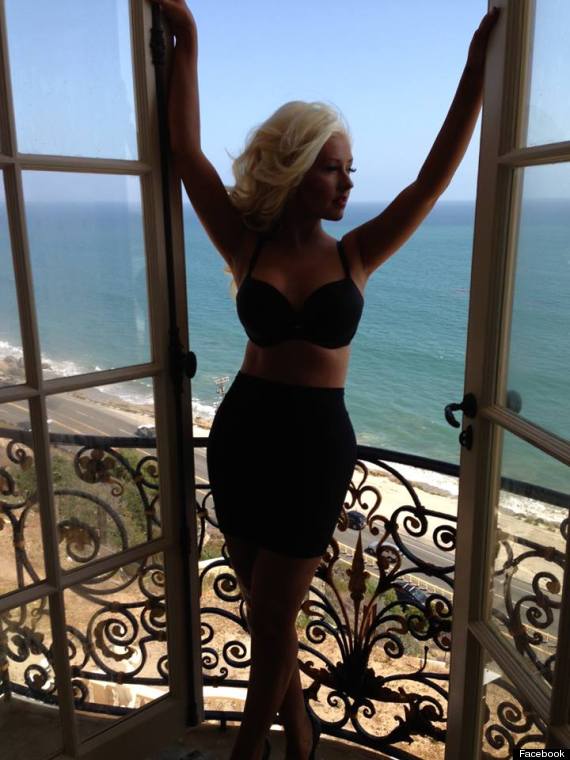 "I think the goal of the show is to do what we can do for these amazing singers while they're on the show…I think that we all know that the lightning in a bottle you have to capture in order to be successful in this business is extraordinarily difficult. I'm not sure that that is the overall mission statement of the show." "American Idol'" producers and judges weren't shy about wanting to crank out insta-stars like Kelly Clarkson and Carrie Underwood. Its 11th season winner Phillip Phillips has had huge radio success with songs like `Home" and "Gone, Gone, Gone." Even some finalists who haven't made a real mark in the music world like Kellie Pickler and Katharine McPhee still have name recognition and have found success in other areas. (Pickler, who is a country singer, won the most recent season of "Dancing with the Stars." McPhee had a starring role on NBC's "Smash.") It should be noted "American Idol" has had its flops as well. Ninth season winner Lee DeWyze's album "Live it Up" was a major disappointment. He sold just 151,000 copies. By contrast, Javier Colon, who won season one of "The Voice," sold 46,000 copies of his first post-"Voice" album called "Come Through for You" as of last month. Aguilera says it's unrealistic to expect someone to turn into an overnight sensation and cites her own career as an example. "It's not like everything needs to be like boom, boom, boom, then record deal, then No. 1 success. It doesn't happen like that. It didn't happen that way for me either. Like, for instance…my experience with `The Mickey Mouse Club', the alumni from that show, you know, you have huge names Britney (Spears), Justin (Timberlake), Ryan Gosling, you know, all these names come from that show. But, you know, right after the show, did we rocket to success right after it? No. It takes time." Of season four winner, Danielle Bradbery, "The Voice" host and producer Carson Daly argued that she has time on her side. "She has eight years to figure it out, her voice, an album, whatever it might be. And in eight years she'll be the same age as Taylor Swift is right now. She's got time," he said. Bradbery's new single "The Heart of Dixie" debuted at No. 58 on the Billboard Hot 100 and No.